Alumnus vs. Alumna vs. Alumnae vs. Alumni – How to Use Each Correctly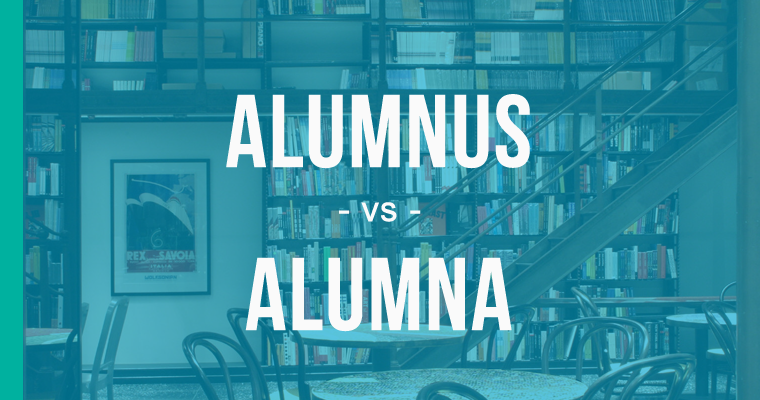 What is the Difference Between Alumnus, Alumna, Alumnae and Alumni?
Alumnus, alumna, alumnae, and alumni all refer to graduates of a school. However, they each differ according to whether the graduate is in the singular or plural form and the gender of the graduate.
Alumnus means a male graduate.
Adam Sandler is an alumnus of New York University. He received his master's degree in Fine Arts.
Alumna means a female graduate.
Jody Foster is an alumna of Yale University.
Alumnae means female graduates.
Julie Stiles and Maggie Gyllenhaal are alumnae of Columbia University.
Alumni means two or more graduates who are all male or who are both male and female.
Natalie Portman and Conan O'Brien are alumni of Harvard University.
Now, let's go over the specific ways each of these words are used.
Using Alumnus in a Sentence
When to use alumnus: Alumnus is a noun for a singular, male graduate of a school, especially a university.
For example,
My father was an alumnus of the University of Kansas, so he wanted all his children to attend the same school.
My older brother attended KU but my younger brother attend Mizzou. Since they were each an alumnus of rival schools, they were always fighting about college football.
Alumnus is the second most common of these four words.
Using Alumna in a Sentence
When to use alumna: Alumna is the feminine form of alumnus. It is also a singular noun.
For example:
My mother is an alumna of MIT. She graduated from there in the 1970s.
Fe del Mundo was the first alumna of Harvard Medical School. The school only allowed her to enroll because they thought she was a man, due to school officials misinterpreting her name as masculine.
Alumna is the least common of the four words.
Using Alumnae in a Sentence
When to use alumnae: Alumnae is the plural form of alumna. This means it refers to multiple female graduates.
For example:
It wasn't until the mid-1900s that Harvard had its first alumnae.
Both of my aunts are alumnae of Loyola University.
Alumnae is the third most common of the four words.
Using Alumni in a Sentence
When to use alumni: Alumni is the plural form of alumnus or for a mixed gender group.
For example:
Both my mother and father are alumni of the University of Virginia.
Boston University has a very active alumni community.
Alumni is the most common of the four words by more than double.
One way to remember the difference between these four words is to think of other words in English with similar endings.
Alumnus refers to a singular male graduate. The s ending in alumnus is similar to the s ending of many boy's names. James, Charles, Julius, Lucas, Jonas, and Francis are some of the most popular of these.
Alumna ends in an a, which is similar to the ending of many girls names. Bella, Eva, Stella, Sarah, Becca, and Hanna are some of the most common of these.
Alumnae ends in ae, just like many words from Latin or Greek in which the singular form ends in a. Other examples include antennae, larvae, and pupae.
Alumni end in i, as do many words in plural form that are still similar to their Latin origin. Other examples include cacti and hippopotami.
Outside Examples
Quiz: Alumna vs. Alumnus vs. Alumnae vs. Alumni
Instructions: Fill in the blank with the correct word, either alumna or alumnus, or alumnae or alumni.
Most people don't know that the singer Art Garfunkel is an ______________ of Columbia University. He has a master's degree in the field of mathematics.
Both my brother and sister are ________________ of McGill University.
Andrea Hollen was the first _______________ of West Point.
Chatham University had only _______________ for many years, as it was a women-only school.
Article Summary
Should I use alumnus, alumna, alumnae, or alumni? Which word you use depends on the number and the gender of the graduates.
Alumnus is for a singular, male graduate.
Alumna is for a singular, female graduate.
Alumnae is for plural, female graduates.
Alumni is for plural graduates who are all men or a mixed group of men and women.
Using the information above can help to ensure that you don't mix up these similar words with Latin endings.
Quiz Answers
alumnus
alumni
alumna
alumnae