Faze or Phase – How to Use Each Correctly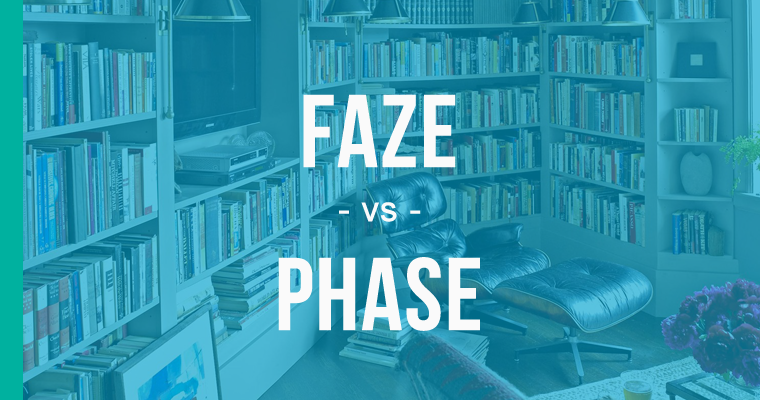 What is the Difference Between Faze and Phase?  
Faze and phase are homophones, which means their pronunciations are identical yet their spellings and meanings are different.
Faze is a verb that means to disturb or bother someone.
Surprisingly, learning that his mother had been stealing from him didn't faze him.
Phase can act as either a noun or a verb. As a noun, it means a stage of a process or a state or condition. As a verb, it means to schedule something to begin as needed over time.
Phase one of his evil plan to take over the word was to capture the superhero. (noun)
We will phase in this new process over the course of several months. (verb)
Usually, the common mistake is to write phase regardless of whether the person means phase or faze. Now, let's go over the specific ways each of these words are used.
Using Faze in a Sentence
When to use faze: Faze acts as a verb that means to break someone's composure.
For example,
He was always a stoic man. Once he started to have an allergic reaction yet even this didn't faze him. He simply pulled out his epipen, administered his medicine, and kept going.
The stormchaser was very brave. Once a tornado was coming straight towards her but she didn't let it faze her.
This word usually occurs in negative sentences, in which the person is unfazed.
For example, a common phrase is didn't faze me. This means you were not startled.
His yelling and screaming didn't faze me.
Faze me or phrase me? The correct spelling of this phrase is faze me.
Using Phase in a Sentence
When to use phase: Phase can be either a noun or a verb. The noun phase refers to a either a stage or a state of being. The verb phase refers to implementing something over time, as needed.
For example:
He went through a phase as a child in which he would only eat white foods. (noun)
The school is phasing out their old textbooks and phasing in the updated texts. (verb)
There are also a couple of idioms using the verb phase:
to go through a phase: to experience a duration of time in which a person is overly involved with certain interests or habits

Many teenagers go through a goth phase, in which they wear only black clothing.

the honeymoon phase: the time following marriage (or other new ventures) in which two people are more loving (or in a better mood) than normal

Even though the couple had been together for over fifty years, many people commented that it seemed as though they were still in the honeymoon phase.
When phase is a verb, it almost always occurs as phase in or phase out.
Remembering Faze vs. Phase
There is a way to help remember which spelling is related to which meaning. The word faze ends with the letters aze. This is similar to the word daze. Both daze and faze relate to a state of discomposure.
It's a little harder to remember phase. However, the origin of the word might help. It comes from the Greek word phasis, which meant to show. This is the same root of the word phantom, a spirit that shows itself. A phase is state or stage of something, just as a phantom is in a state of being dead and undead at the same time.
Outside Examples
Quiz: Phase vs. Faze
Instructions: Fill in the blank with the correct word, either phase or faze.
Many parents have several ____________ of discipline. The first is a warning, the second is a light punishment, and the third is a more serious punishment.
She's fearless. It will take more than just a mouse to ____________ her.
The waitress wasn't ____________ when the rude customers didn't leave a tip. She was used to it.
Article Summary
Should I use faze or phase? Despite the identical pronunciation of these two words, there is no overlap in meaning between them.
Faze is a verb that means to bother, surprise, or discomfort
Phase can be either a noun or verb that refers to a state of being, a stage within a process, or starting or stopping something over time.
Phase is much more common because it has more possible definitions. However, if you can substitute the word bother, faze is the best option.
Quiz Answers
phases
faze
fazed