I.e. vs. E.g. – How to Use Each Correctly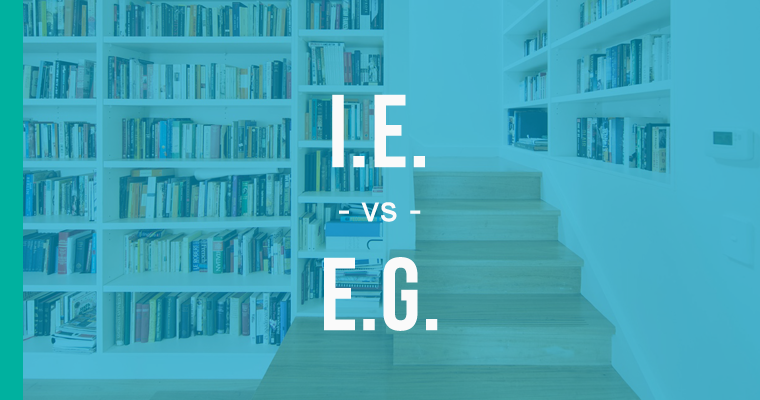 What's the Difference Between I.E. and E.G.?
I.e. and E.g. are both abbreviated Latin phrases that have similar meanings.
I.e. means that is and explains a concept in other words.
I stated the rules clearly in the syllabus under rule 15, i.e., the rule that prohibits food and drink in the chemistry lab.
E.g. means for example and lists one or more examples.
There are many species of flowering plants native to Nebraska, e.g., Arisaema triphyllum, Baptisia alba, and Dodecatheon meadia to name a few.
Now that you know the differences between these abbreviations, let's look at them in context to ensure you don't confuse one for the other.
Using I.e. in a Sentence
When to use i.e.: I.e. is an abbreviation that stands for the Latin expression id est. In English, this translates to that is or in other words.
Use i.e. anytime that you want to explain a concept or expression in a different way.
For example,
Meow and woof are onomatopoeias, i.e., words that imitate a sound.
If you say all hands on deck, this is an example of synecdoche, i.e., the use of a part to represent the whole.
You may find some examples of i.e. that come before introducing examples. This is a common error that many writers make. This may stem from confusion over the Latin origin. Don't make this same mistake.
Using E.g. in a Sentence
When to use e.g.: E.g. is also an abbreviation. It comes from the Latin expression exempli gratia. Use it to precede examples.
There are several species of flightless birds, e.g., ostriches, penguins, and emus.
Many civil rights leaders have been assassinated, e.g., Malcolm X, Martin Luther King Jr., and Harry and Harriette Moore.
The translation of exempli gratia is for the sake of the example.
Remembering I.e. vs. E.g.
The spelling of i.e. and e.g. can act as a mnemonic device to help you to remember which abbreviation has which meaning.
I.e. has an i that precedes an e, just like the expression in other words. This expression is a synonym for i.e.
E.g. sounds like egg if you pronounce it as if it were not an abbreviation. Egg sounds like the first syllable of example. There are also four characters in e.g., the e, g, and two periods. The four characters can remind you of the four syllables in for example.
Outside Examples
Quiz: E.g. vs. I.e.
Instructions: Fill in the blank with the correct abbreviation, either e.g. or i.e., in the correct form.
There are several mammals which live in the water, ______, dolphins and whales.
Coins often have special names, __________, pennies, nickels, dimes, and quarters.
An important, but often overlooked, part of learning to speak English is developing prosodic skills, _________ learning the rhythm and intonation of the language.
I love snack foods, _________, cookies, cake, ice cream, brownies, and even fruit with sugar and cream.
See answers below.
Article Summary
Should I use i.e. or e.g.? These words are both short abbreviations that come from Latin roots and serve to give additional information. However, they are different and cannot be freely interchanged.
i.e. has the same meaning as in other words. It explains something in a different way.
e.g. has the same meaning as for example. It lists instances of something in order to demonstrate a concept.
Despite the similarities, it is important not to confuse these two words.
Answers
e.g.
e.g.
i.e.
e.g.