Insure vs. Ensure vs. Assure – How to Use Each Correctly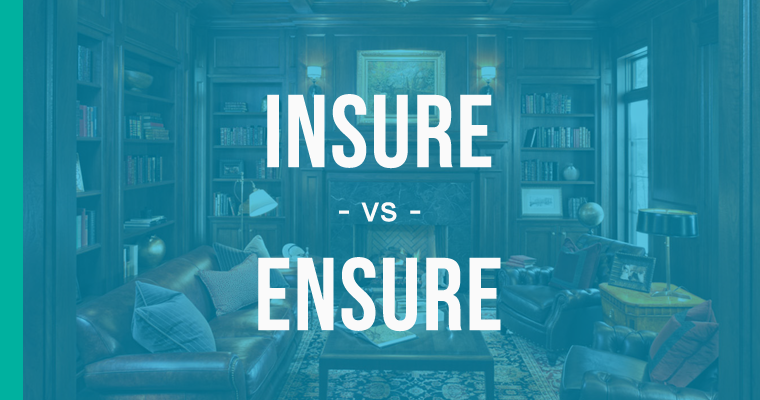 What's the Difference Between Insure, Ensure, and Assure?
Insure, ensure, and assure have the same ending, and they all are all verbs related to the idea of certainty. However, these words have very important differences that mean you cannot use them in the same way.
Insure is a verb related to the noun insurance. It means to secure against loss or damage.
Most people decide to insure their homes against fire damage or other common dangers.
Ensure is also a verb. It means to make sure or to guarantee.
Wearing a bicycle helmet will ensure a higher chance of avoiding brain damage in an accident.
Assure is a verb as well. Its definition is to make someone feel sure by telling them something comforting.
The son assured his parents that he would never smoke cigarettes.
Now, let's go over a few ways you can use these words in your sentences.
Using Insure in a Sentence
When to use insure: Insure is a verb that means to guard against harm or loss. It often is used when talking about insurance policies.
For example,
Even hundreds of years ago, merchants insured their ships in case the merchandise was lost in storms or pirate attacks.
It is very important to insure your car. In fact, it is illegal to drive without car insurance.
Insure originally was an alternate spelling of ensure. However, by the mid 1600s, it had developed the specific meaning of protecting against harm through payment of premiums.
Using Ensure in a Sentence
When to use ensure: Ensure is a verb that means to make safe or certain.
For example,
He brought a dozen water bottles to ensure he wouldn't get thirsty.
It's a good idea to have a fire extinguisher to ensure you'll be able to put out small fires.
Ensure is somewhat formal. The synonym make sure is more likely to appear in casual conversations.
Using Assure in a Sentence
When to use assure: Assure is a verb that means to declare something confidently or to assuage someone's doubts or fears.
For example,
My parents were worried that I had forgotten to turn off the oven, but I assured them that I had done so.
Don't worry. Your performance will be great; I assure you.
Assure is also somewhat formal, and, therefore, it doesn't often appear in casual conversations.
Remembering Insure vs. Ensure vs. Assure
It is possible to use the spelling of insure, ensure, and assure to distinguish the three words from one another.
Insure is the easiest to remember, because it has the same initial letters as insurance. This makes the connection between the two words very clear.
Ensure has two letter e's, just like the word guarantee, which is a synonym.
Assure can also be easy to remember if you already know the verb reassure. Reassure contains the entire word assure within it, and they have very similar meanings.
Outside Examples
Quiz: Ensure vs. Insure vs. Assure
Instructions: Fill in the blank with the correct word, either ensure or insure or assure, in the correct form.
The diving instructor ____________ all of his students that they were well prepared and that they would do a fantastic job on the test.
The man had a main deadbolt and a backup deadbolt to ___________ that no one could break into his house.
If you don't ____________ your vehicle you could get a ticket.
See answers below.
Article Summary
Should I use insure or ensure or assure? These three words all involve the concept of certainty or being sure. However, there are important differences between them that prevent you from using them interchangeably.
Insure is a verb that means protecting oneself against loss or harm through the payment of insurance premiums.
Ensure is a verb that means to make an outcome certain.
Assure is a verb that means to take away people's doubts by telling them something comforting.
All three of these words are related to the Latin root meaning secure.
Answers from Quiz