Then vs. Than – How to Use Each Correctly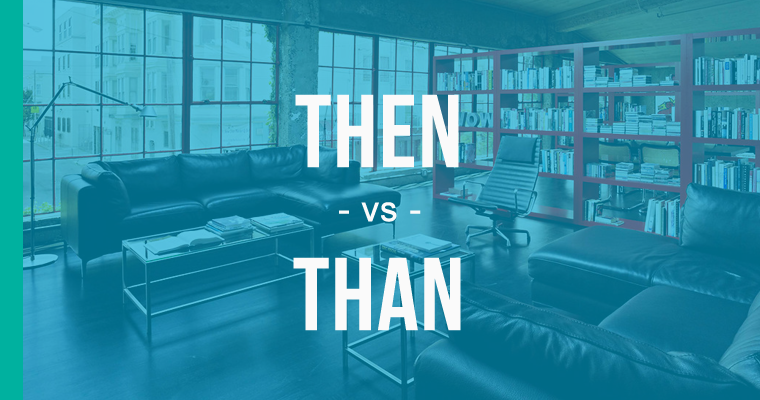 What's the Difference Between Then and Than?
Then and than have similar pronunciations and spellings. In fact, one of the pronunciations of than is exactly the same as then. However, these words have no overlap, and they are also different parts of speech.
Then is usually an adverb, but it can also be an adjective or a noun. The most common definition for then is at that time.
I'm not a dancer now, but I was when I was younger. Back then I danced all the time!
Than is a conjunction used most often in comparisons between two things.
A giant is taller than a dwarf.
Now that you know the differences between these two words, let's look at them in context to ensure you don't confuse one for the other.
Using Then in a Sentence
When to use then: Then can act as an adverb, adjective, or noun. As an adverb, it can mean at that time, next, or consequently. As an adjective, it can describe someone or something as being a certain way at that time in the past, but not now. As a noun, it can mean that time.
For example,
He played soccer then took a shower. (adverb meaning 2)
If you aren't going to study then you'll fail the test. (adverb meaning 3)
The then president embezzled a large amount of money. (adjective meaning)
Then also appears in some expressions:
but then again: on the other hand

No, thanks. I don't want any ice cream. But then again, I did just finish my diet yesterday. I guess I will have some ice cream.

right then and there: at exactly that time and place

They couldn't believe that that doctor started singing right then and there, in the middle of the surgery!

and then some: and even more than that

She added the amount of alcohol that the recipe noted, and then some!

now and then: occasionally or at times

The professor does have a drink at the bar now and then, but not very frequently.

until then: goodbye until we meet again

Yes, I'll see you at the party on Saturday. Until then!
Then is more common than than and appears in both formal and informal speech.
Using Than in a Sentence
When to use than: Than is a conjunction. It appears with comparative adjectives including, but not limited to, better, worse, and faster. It can also appear in sentences that express no choice except for one.
Additionally, than can show preference between two things.
She doesn't even study and she's still smarter than me. (first definition)
I wanted to get here earlier, but because my car broke down I had no choice other than to walk. (second definition)
I'd rather exercise by lifting weights than by running. (third definition)
Than also appears in some expressions:
actions speak louder than words: Doing something shows more commitment than saying something.

You keep saying that you'll work harder, but you never actually do work harder. Actions speak louder than words!

better late than never: Doing something late is better than never doing it at all.

I'm sorry I sent you this thank-you card so late, but better late than never, I suppose.

better safe than sorry: It is better to be safe than it is to take a risk and have a horrible accident occur.

Doctor's recommend that most people get a yearly checkup to make sure they are healthy. It's likely that nothing will be wrong, but it's better to be safe than sorry.

more than meets the eye: someone or something has more importance or depth than is apparent at first glance

You should try dating him. I know he seems boring at first, but he's actually very sweet and interesting. There's more to him than meets the eye.

no sooner said than done: the action will occur directly after stating that the action is desired

If you want me to buy you a cake for your birthday, just let me know. It's no sooner said than done.
Just like then, than has been an English word since before the year 900.
Remembering Then vs. Than
The spelling of then and than can act as a mnemonic device to help you to remember which word is which.
Then is spelled with an e, and has no a, just like the words time and moment. This fact can help you remember that then usually refers to a specific point in time.
Than contains an a but not an e, just like the word comparison. This can help you remember that than mostly appears with comparative adjectives.
Outside Examples
Quiz: Than vs. Then
Instructions: Fill in the blank with the correct word, either than or then, in the correct form.
Run to the grocery store __________ pick up the laundry.
I'd rather sleep in late ___________ wake up early.
If you don't clean ________ our parents will yell at us both.
See answers below.
Article Summary
Should I use then or than? These words sound similar. However, their definitions have no overlap.
Then is usually an adverb, but it can also be an adjective or noun. It means at that time.
Than is a conjunction that primarily connects the two nouns being compared with an adjective.
Despite the similar spellings, these words should not be interchanged for each other.
Answers 
then
than
then