Hers or Her's – How to Use Each Correctly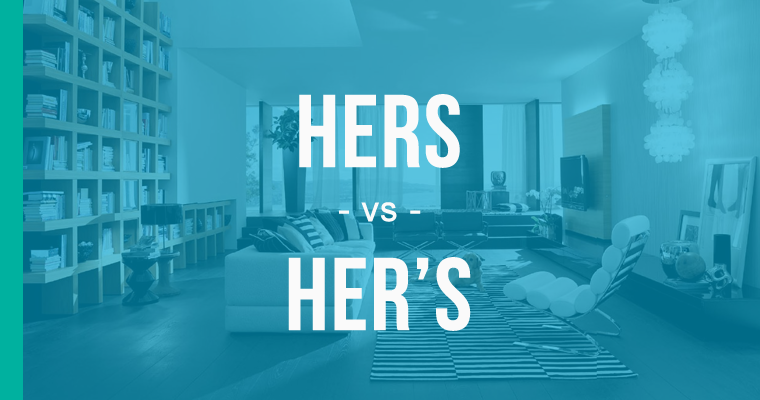 What's the Difference Between Hers and Her's?
At first glace, hers and her's might seem like two alternate spellings of the same word. However, only hers is a correctly spelled word. Her's is a common misspelling, or mispunctuated form, of hers.
Hers is a possessive pronoun. It shows ownership of a noun, in the third person, by a woman. Possessive pronouns replace a noun in a sentence in a way that shows who owns or has that noun.
Her's is not a word at all. This is a typical error someone might write when trying to write hers.
They both had problems, but her's were worse. (incorrect spelling – her's should be hers)
Let's look at some further details about these two words in order to help you avoid making this same error.
Using Hers in a Sentence
When to use hers: Hers is a possessive pronoun. It replaces a noun in a sentence with a pronoun that shows to whom that noun belongs.
For example,
The husband and wife each own their own car. Hers is red while his is blue.
Is that Alyssa's dog? It looks just like hers.
Hers looks similar to her, but these two words should not be confused. Her is a possessive adjective, which means it only describes to whom a noun belongs, but doesn't replace the noun.
That is her dog.
That dog is hers.
Using Her's in a Sentence
When to use her's: Her's is an incorrect spelling of hers. It includes an unnecessary and incorrect apostrophe. Don't ever use her's because there is no situation in which it is grammatically correct.
For example,
This cake is Sara's and that cake is John's. Her's is chocolate and his is strawberry. (incorrect spelling – use hers instead)
No, that's Katie's pencil, not Jerry's. I know because her's is purple. (incorrect spelling – use hers instead)
Adding an apostrophe and the letter s is common when talking about possession. However, it is never appropriate when using possessive pronouns because these words are already possessive. In other words, don't add 's to her.
Remembering Hers vs. Her's
Let's look at some ways to help you remember which word is the correct form and which is the error.
The first way is related to other possessive pronouns. Mine, yours, his, ours, and theirs are all other examples of possessive pronouns. As you can see, none of these use apostrophes. Mine may be the most helpful example, as it does not end in the letter s.
When proper or common nouns show possession, an apostrophe is necessary. For example, Carmen's dog, the boss's car, the building's door all show nouns taking an apostrophe and adding an s to demonstrate that they own or have another noun. Possessive pronouns are exempt from this rule.
It is true that hers and possessive nouns end in an s. However, don't let that confuse you into thinking that hers also needs an apostrophe.
Outside Examples
Quiz: Her's vs. Hers
Select the correct word, her's or hers, to fill in the blank.
That looks a little like Christine's baby, but ___________ is a little older. (correct spelling)
Oh, wow! Do you have your own copy of my favorite novel? My sister has one too. I tried to borrow _________ but she wouldn't let me. (correct spelling)
The boy saw that a man and a woman each had on a watch. He asked to see _________________ to find out the time. (incorrect spelling)
Are you trying to use Miss Smith's classroom? Don't use __________. It doesn't have air conditioning. (incorrect spelling)
See answers below.
Article Summary
Should I use hers or her's? Never use her's, as it is never correct. Only hers is the correct form of the possessive pronoun.
Hers is a pronoun that replaces the word in a sentence for an object that a woman possesses.
Her's is a common incorrect way to write hers.
Use the information you learned today to avoid using the incorrect word her's.
Answers